---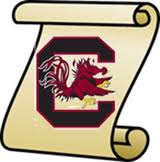 I was born into a family of educators who instilled in me a love of learning and a passion for excellence. I received my Bachelor of Arts in Interdisciplinary Studies from the University of South Carolina in 1995 (Go Gamecocks). After teaching for eight years, I decided to earn a Master of Education Degree from Columbia College in Columbia, South Carolina. Throughout my twenty-two years of teaching experience, I continue to grow professionally everyday. I am always eager to explore new ways of helping students and staff flourish. My greatest wish is for all students to reach their maximum potential while having fun.
---
I began my teaching journey as a third grade teacher at Hyatt Park Elementary School in Columbia, SC in 1996. After meeting my soul mate, I moved to Georgetown, South Carolina in 1997 where I began teaching at McDonald Elementary School. My first teaching assignment was as a First Grade Reading and Writing Teacher. After one year, I moved to a fifth grade teaching position. I taught fifth grade for twenty years. I am currently serving as the reading coach.

---
I was born in Sumter, South Carolina and lived there until I went off to college in 1991. I came from a big family and I am the fifth child of six children. In 1997, I married my husband Wayne and moved to Georgetown, South Carolina. We have three daughters (Kyla, Kiara, and Kaylyn). In my leisure time, I enjoy traveling, reading, and shopping. Teaching is my greatest passion. I believe teaching isn't just instruction but rather nurturing students' interests while guiding them through a structured curriculum.